Damn jon, back at it again...
---
i think last time i logged on here was about 7 or 8 years ago and ill be 30 years old come october this year, time flies..spend it wisely :/
life has been a crazy journey through thick and thin good and bad making me the person i am today. Funny how things come around full circle and I'm blessed to say that non the less.
as far as my vehicles went...bare with me, i had a jdm itr clone (poor mans ITR,ssbp) back in 2007/08 (also had a jdm b16 EG hatch clean af for 3 years prior to the jdm itr clone) and sold it in 2009 for an nfr AP1 (s2k, mugen hardtop, cusco 6pt cage sw388's, tiens, more wheels, blahblah) that i had for 5 years while also dailying an jdm b16 ej8 a that i also had for about 6 years...sold the s2000 then got into street bikes 2006 r6 then a 2005 r1..sold them both after about 2 seasons each (miss them dearly)...moved out of my moms house and moved in with my girlfriend and got a VW 20th gti in imola yellow telling myself i wanted to get as far away from honda / acura as possible.
long story short me and my ex broke up after about a 2 years having to drop everything, pack up, quite my full-time job (healthcare/finance) and move back home and having to start all over from scratch, sold the VW (which was a relief to get out of) and got a 2001 ford f150 that i sold after 2 weeks after deciding i wasn't happy with it and not needing a truck right now in my life, although it was a good looking truck with a hanky transmission
after all the s*** thats happened dealing with depression and getting laid off, having the magic rug pulled out from under my feet i felt like i had to go back to square one, back to my roots specially after catching up with old friends back home that never left the honda game because they are lifers (with kids, married, a home all that)...something told me it was time to go back and stick to what i know...so today after weeks and weeks of looking and searching and knowing these type cars are getting harder and harder to find unmolested and jerry rigged, covered in crust and rust, over priced RSX, EK,EG hatches and coupes etc....i finally found something that i believe i picked up were i left off almost 8/10 years ago...
a 2001 GSR integra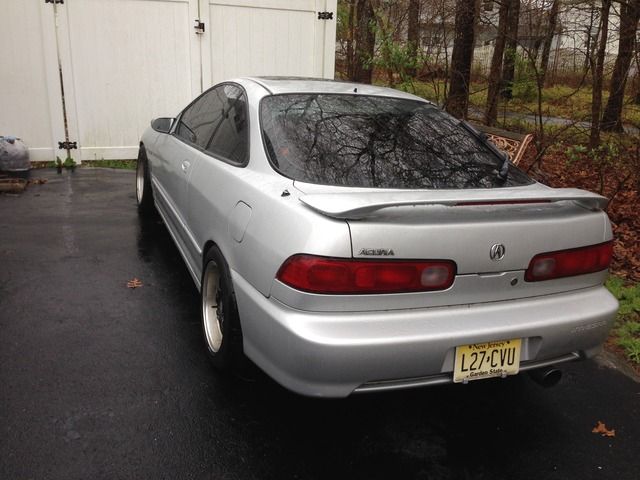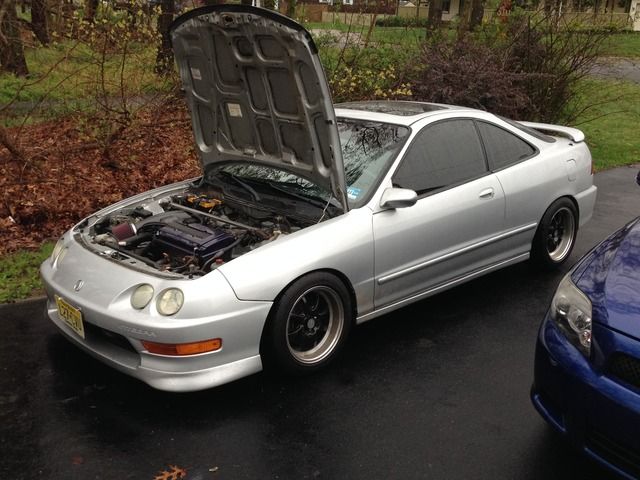 not to mention the 98 spec ITR motor and s80 trans that felt amazing, enkie jspeed wheels / nitto tires / fresh respray / clean gsr leather interior..(paper work for everything included!!!!!) picked her up for a pretty decent deal..
got home realized there was some oil on my driveway after sitting for a few hours ( welcome back to the game:roll eyes
) turns out it was a gas leak from a rusted spot along the seem of the fuel tank...which ill be tending to asap..but for what its worth I'm happy and can't remember last time i felt like this...ill definite keep you guys unto date...prob won't be much on honda-tech or NWP, they have a different vibe to it these days which I'm just not into. Rather share with die hard enthusiast who appreciate hard work and meticulous rides such as team-integra/club integra which are more focus based.
plan on restoring the A/C, doing water pump and timing belt just because, removing all tint, maybe switching up the wheels and going wingless...already has a ws2, maybe black recaro's and just enjoy the ride till the wheels fall off.
cheers and thanks for reading..
those bananas in my sig are still shaking after all these years
__________________

To view links or images in signatures your post count must be 10 or greater. You currently have 0 posts.
Loves Club Integra
To view links or images in signatures your post count must be 10 or greater. You currently have 0 posts.

---
Last edited by jdm jon; 05-03-2016 at

07:59 AM

.