1994 Integra LS "MAD MAX" Project
---
Hey everyone, been a long time "guest" of CI but finally decided to make my own little project thread in hopes to recieve some helpful information, tips, talk to some people about integras, and just some motivation to keep going on my project.
Going to be keeping this thread to post what i wanna do, what im going to do, and what im currently working on with my 94 LS. I am no mechanic by any means but i have always been a DIY kind of guy, plus im a college student that doesnt have the funds to pay someone else to do something i can just google and do myself
It is my daily driver, and will remain a daily driver / go-cart racer for fun.
Heres a list of what i know thats in it..
B18B1 LS Engine (210k+ Miles)
BBP 4-1 Headers
Ram-Air Intake
2.5 Magnaflow exhaust
Dynomax Muffler
Dropzone Shocks & Tenzo Springs
Here is what i just fixed/changed
Battery
Starter
Distributor
Alternator
Water Pump
Belt
Tensioner Pulley
Spark Plugs & Wires
O2 Sensors
All Fluids
Here is my motivation list of all the things i want to do with it, in order i want to do it in...
EXTERIOR:
Fix up body
Paint
Black out lights
Tint
Halos
Spoiler(Type R)
Rims
Suspension
"MAD MAX" tags
maybe a wash :dodgy:
INTERIOR:
Sound System
Guage Backplate
Guage Pillar
Racing Seats
Gut Backseats
ENGINE:
Clean Up & Degrease
Paint Valve Cover
New Muffler
Intake Manifold
TB
Internals
Turbo
3" Exhaust
Tune
LS/Vtec OR Swap
Bottle
Whatever i forgot
Theres my wish/motivation list, probably wont get to a lot of it right now but once my classes are over and $$$ starts flowing i will be doing my best. Have no intentions on making this a show car, just want to make it the way i like it and to my taste.
Forgot to take pics of the car when i got it, but heres a pic of what i have been working on..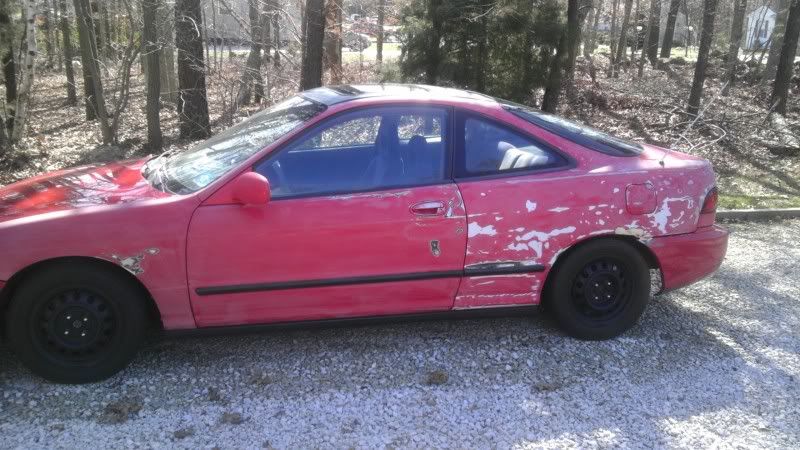 Sanding body ready to paint it. Yes, i will be painting it myself, rattle can style. Like i said, i dont have the money for a prof. job and i always wanted to do it myself. Also, notice the TERRIBLE bondo job near rear fender. Ill be fixing this is the future when i have more time to work on the car, just want to get it painted right now.
---
Last edited by Mad_Max; 07-11-2012 at

09:47 PM

.