Hey what's up everyone? I'm new to the side, so I'm creating an intro with my car. I drive a 1994 RS model DC4. It was my first car, and I've had it since I was 17. 5 years of owning it has changed it a lot. It used to have a body kit, which was dumped. The guy that sold me the car had it on there, and he also installed a sunroof. Whoever he had do it, did a great job, I love it. The original motor blew up shortly after I got it. So it was swapped out with another B18B1, which has seen a Turbo for a day (Didnt work out as planned), Nitrous for over a year, All motor for 2 years after that, so we put a fully built Crower Stage 2 LS head on it, and it spun a bearing due to burning 5 quarts of oil in a matter of 2 weeks. The new B20B motor had 29K miles on it, and I recently dyno'd it at 197.81whp / 263.48wtq untuned.
The specs are:
Engine:
1998 JDM B20B (P8R head, ask me questions about it, not too many people know about that head)
LS Intake manifold (Got rid of the "Giraffe")
OEM Honda ITR Throttle Body
AEM Fuel Rain w/Stock Injectors
Evolution Motorsports Intake (Soon to be Icebox)
DC Sports GSR 4-2-1 Headers w/ Eliminated O2 Sensors.
2 1/4" full cat-back exhaust w/2 resonators
B&M Short Throw shifter
p28 Chipped ECU (Great basemap, running stoich, but it's not tuned)
Eliminated A/C due to it being turbo at one point.
NX 85 Shot Wet Kit.
Suspension:
Front: USDM OEM ITR struts w/Eibach Ground Control 4" Adjustable Coil overs.
Neuspeed Front Camber Support/Strut Brace.
NRG Lower H-Brace
Rear: USDM OEM Integra Struts w/Eibach Ground Control 4" Adjustable Coil overs.
AEM Rear Strut Brace.
15X6.5 Rota Circuit 8's w/Dunlop Direzza DZ101 tires.
Exterior: 98+up Front/Rear Conversion
Black Hood and Trunk
8000K Plug n' Play HID's
Yellow Tinted high beams.
Interior: DAD Red Front Racing seats.
ITR Center Console (Badged #: 0000100 Acura Integra Type R)
Alpine Type S speakers.
Alpine Head Unit.
I'll post one up right now, and I'll post more later.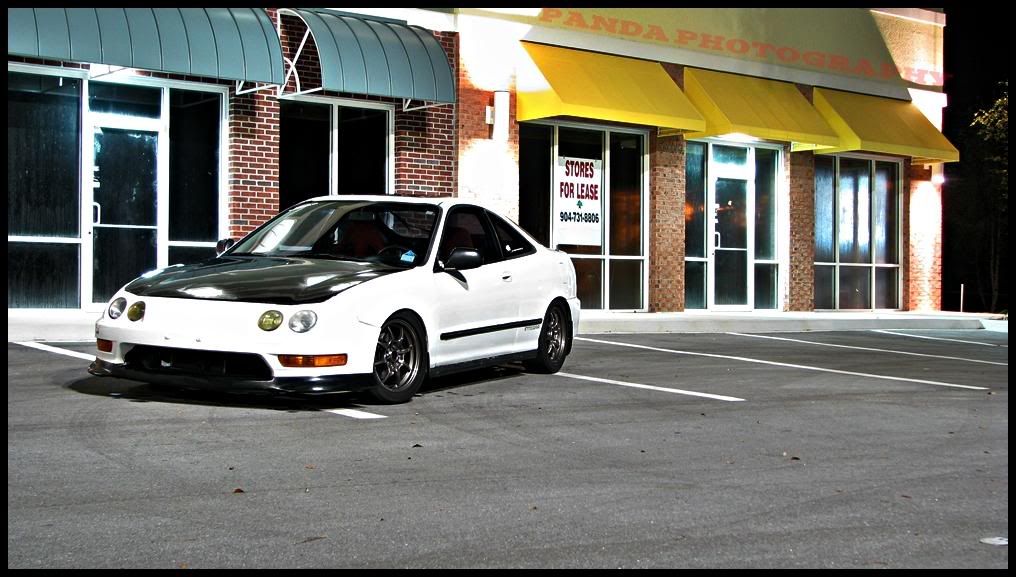 A couple of vids:
I spin all 2nd gear every time off a roll. =/. I need better tires. Enjoy the vids though. =]
Me vs an EF w/a USDM B20B#, Stage 1 cams w/50 dry shot. (209whp, 199wtq)
Camera Car: 2006 Mustang GT w/Bolt Ons
http://www.youtube.com/watch?v=OSMt_uDD1zE
Me vs a GSR DC2 ITR cams - (162whp)
http://www.youtube.com/watch?v=3IersHhoAgQ
Camera Car: 1997 Turbo Sohc Mini-Me HX Civic
.
Me vs a Gutted EG hatch w/B18C1, all bolt ons, ITR pistons (Unknown HP)
http://www.youtube.com/watch?v=BCy8LYlwoRg
Last edited: