Please do NOT ask me where to get bulbs from or what size to get or anything like that, everything you need in in this write-up, including direct links to what products to get.
If you are too lazy so as to not read the whole thing and figure out what you need, you don't deserve it.
Alrighty, well since I've been getting a lot of questions about both recently I decided to put up my first DIY, on how to change the gauge cluster lights, climate control lights, as well as a quick explanation of how to install under dash neons. All are relatively easy to do, but can make a HUGE difference in how your car looks, can help set you apart from what everyone else is doing, and add just that much more personality to your car. Enjoy!
We'll start off with the gauge cluster lights. First off, you'll need some parts! You will need...
- 3 of your choice of 194 size leds. For mine, 3 blue WLED-xHP5 from superbrightleds.com will be used.
(
http://www.superbrightleds.com/cgi-bin/store/index.cgi?action=DispPage&Page2Disp=/specs/WLED-xHP5.htm#photos
) Just quick comment; There are TONS of different leds you could choose from, but I prefer these as they give excellent light output in ALL directions, giving your gauge cluster a bright, crisp look to it, but just my $.02, up to you
***G2 cluster lights are a different size, I believe they are size 74 leds...
- 1 #2 phillips screw driver
- And a little free time
Alright, first thing we need to do, is take the cluster out, this is pretty easy to do, first make sure your steering wheel is tilted all the way down, and all you need to do is unscrew screws 1 and 2, and carefully pull out the "frame", which is also held in by 2 clips on the bottom. ***If you are doing this on a second gen, to get the cluster to pull out you will have to unhook the speedometer cable from the transmission and feed it into the firewall, it might take someone pulling on the cluster while you push the cable through. For a full write-up for second gens, look here -->
http://www.team-integra.net/forum/display_topic_threads.asp?ForumID=15&TopicID=289377&ThreadPage=1
With the frame out of the way, you can proceed to unscrew screws 1,2 and 3 from the cluster itself.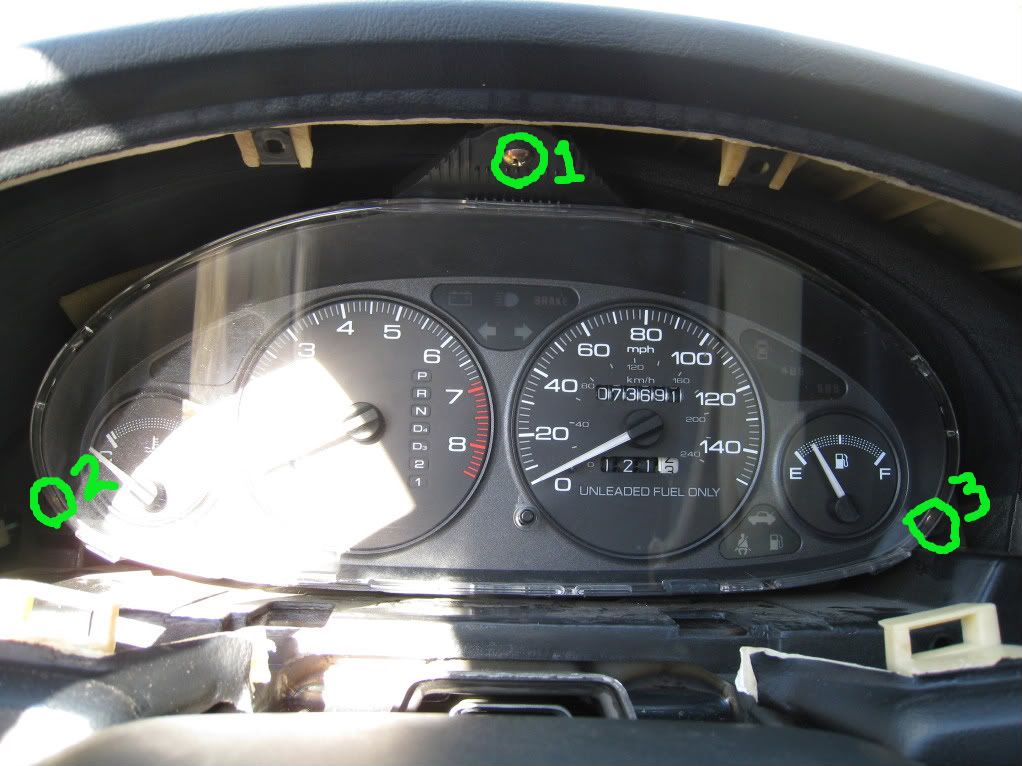 Once unscrewed, pull the cluster out towards you, and turn it about 90 degrees counter-clockwise, giving you access to the entire backside of the cluster.
Now this is where you can make a choice, if you want to also change the color of your needles as i have, unplug all the wiring harnesses from the cluster and take it wherever you will be performing the painting. Here is a DIY by Coy on how to repaint the needles:
http://www.clubintegra.com/board/showthread.php?t=51497&highlight=diy+change+needle+color
Now, if you don't want to change your needle color, you don't even need to unplug the cluster, all you have to do is turn knobs 1,2 and 3 counter-clockwise, and replace your old bulbs with your new leds.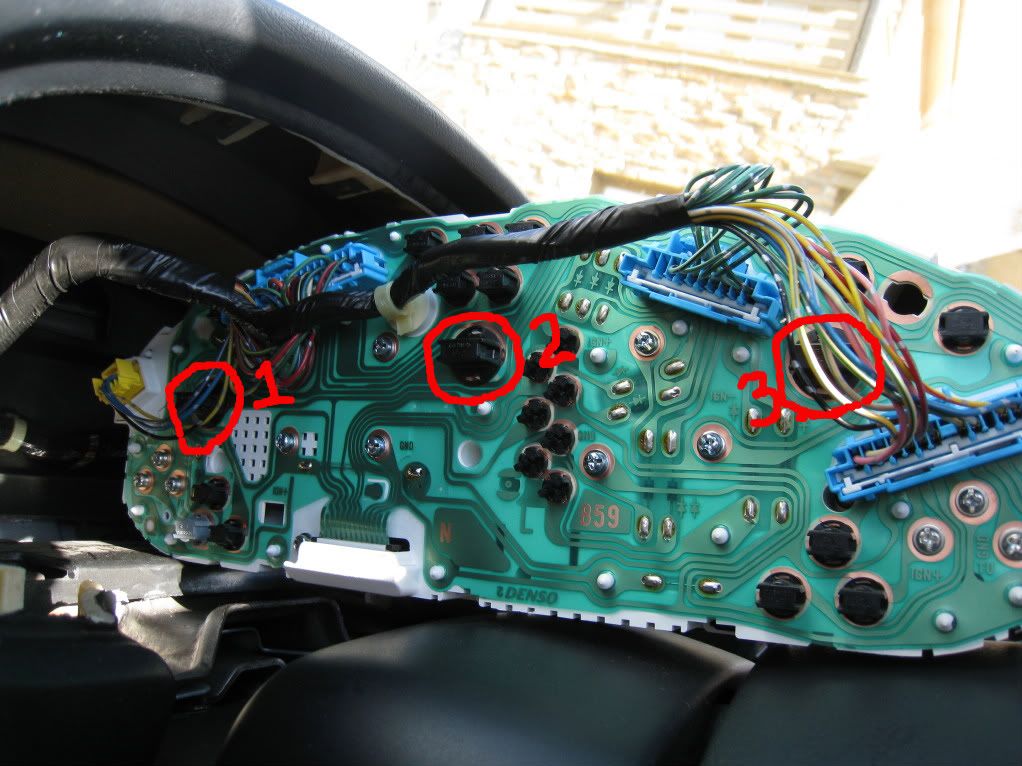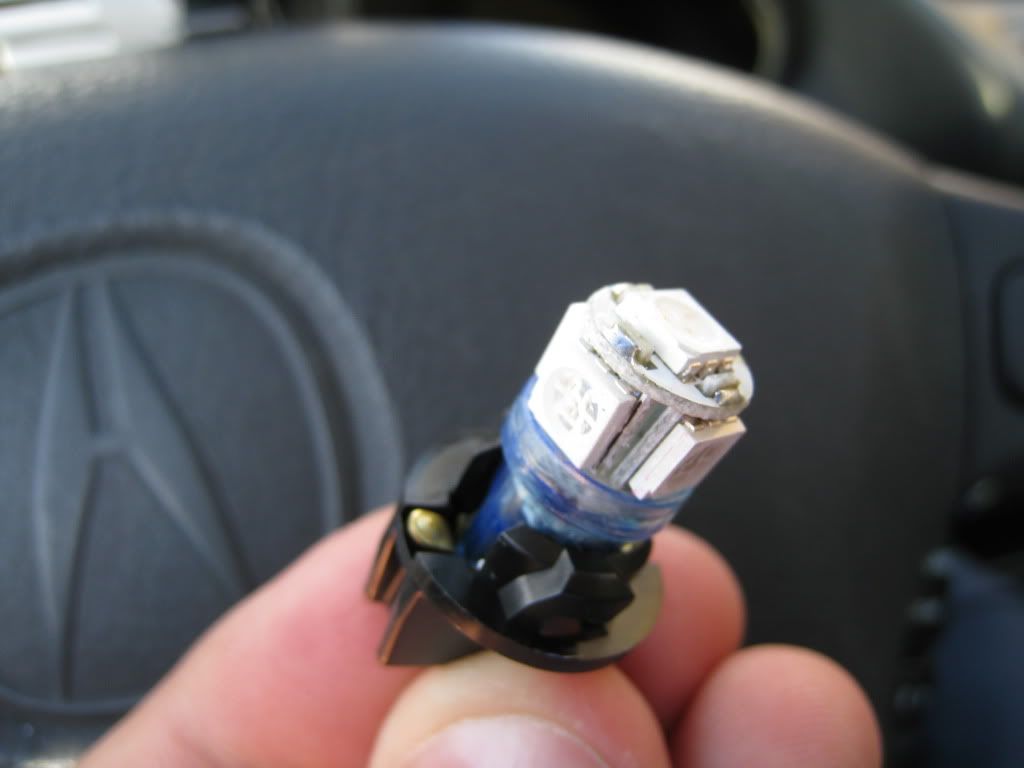 Once they are all back in place, turn on your lights to make sure that all 3 are working. If one or more are not, just remove the suspect knob(s) again, and turn the knob around 180 degrees, and then put it back in. If it still doesn't work after this, you have a problem lol. Then all that's left to do is put it all back together!! Done!!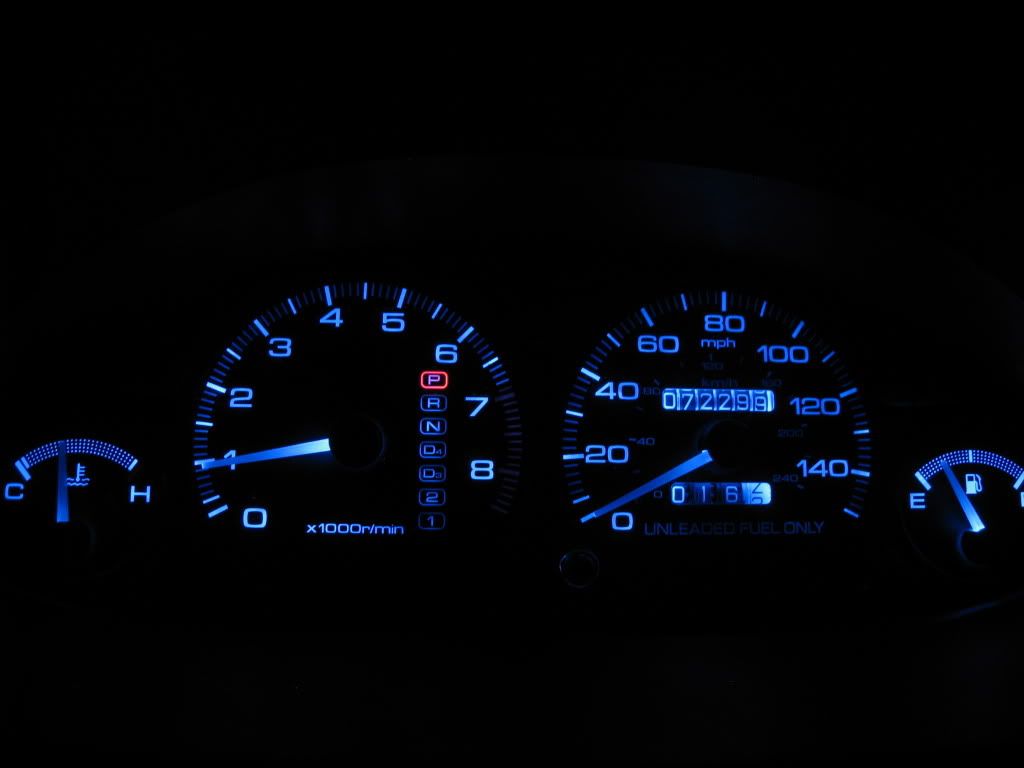 Now for climate control. This one takes a little more work and can be difficult, but is well worth it. Parts you will need are...
-4 of your choice of color 4mm twist lock instrument bulbs (NEO4-xHP-
http://www.superbrightleds.com/cgi-bin/store/index.cgi?action=DispPage&Page2Disp=/specs/NEO.htm#photos
) Use these bulbs if you used the neo wedge 5 way bulbs I used above for 100% matching colors to make it look that much better!
-1-4, 3mm twist lock instrument bulbs (NEO3-xHP, same address as above.) The number you choose is dependent on if you want to put a bulb in the hazard button or not, as well as if you want to do the cruise control button. I opted not to change the hazard to retain the red glow it gives off factory.
-Small flat head screw driver
Small disclaimer, it is kind of difficult to get the bulbs into the holes on this mod, but just push em on in and you'll be good to go :thumbs up
Alright, first thing you will need to do is remove the rod connecting the climate control slider to the thermostat by first unclipping the bracket it is in, and them sliding the rod off the pin.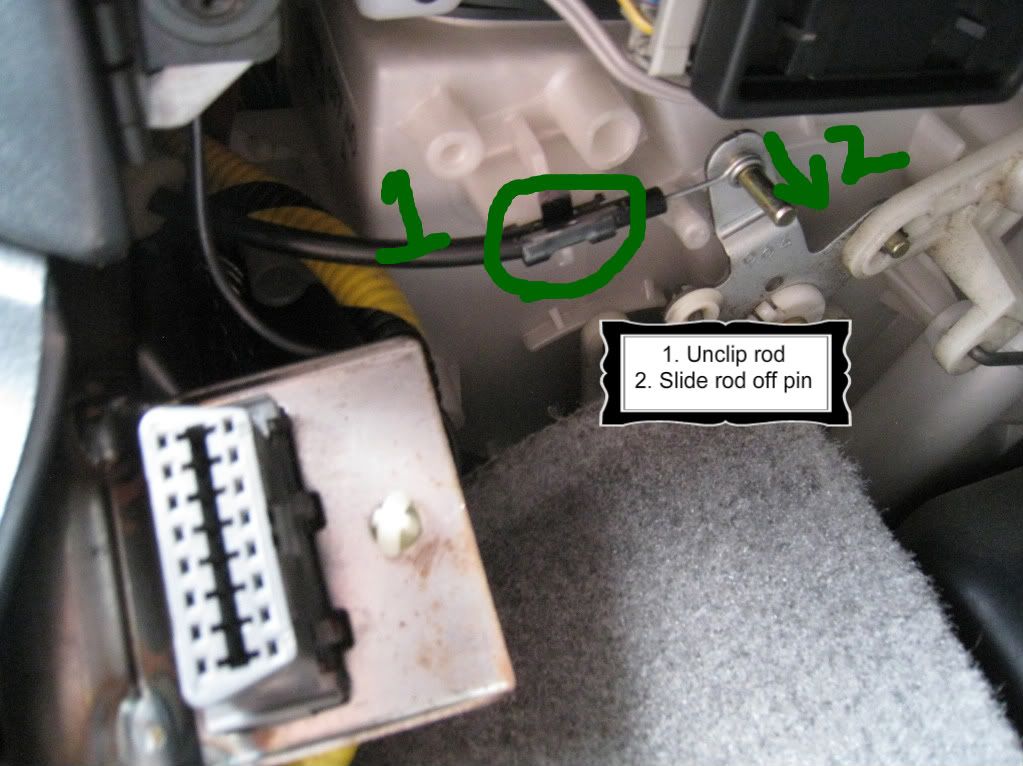 Now with that out of the way, you will need to remove the hazard and rear window defroster buttons from the climate control, this is best done by wedging a flat head on the bottom of the button and carefully working it out of the hole. There are two clips on the buttons, one on either side. Be VERY careful while doing this, as they are easy to break, and expensive to replace. Once those are out and unplugged, you will see the small led on each button. All you have to do is unscrew it, pop it out, and put your new one in.
Next, you need to unscrew the two screws in the back of the climate control unit. Be careful you don't lose these!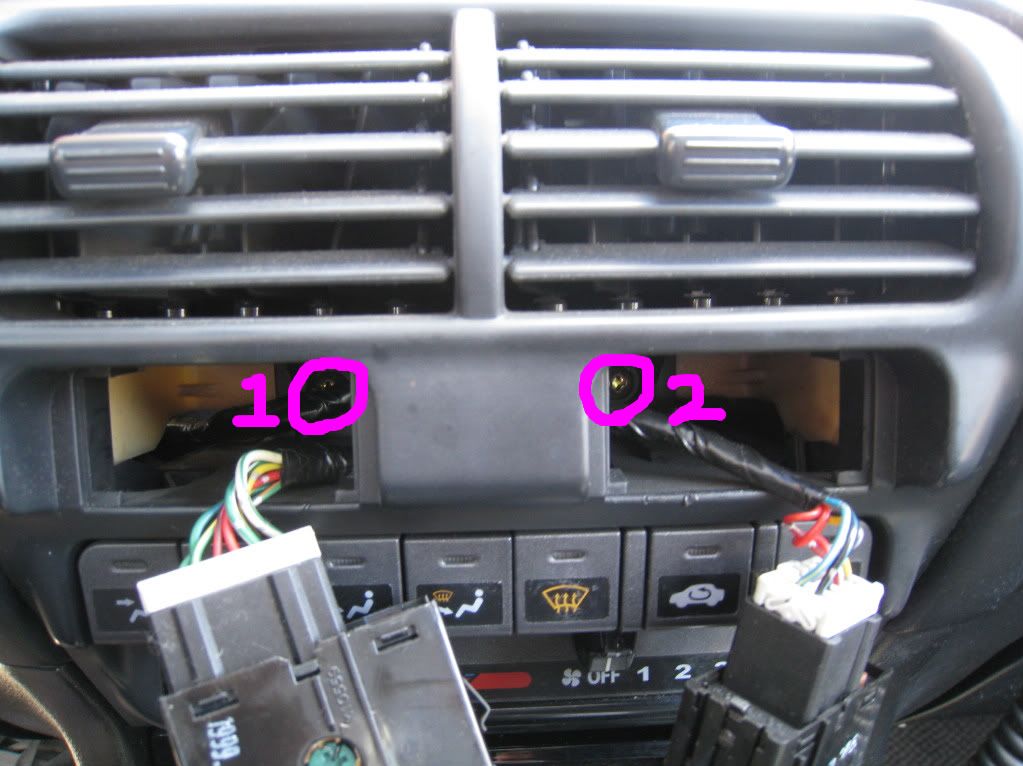 With that done, carefully pull out the whole cluster, as well as the metal rod and unplug all connectors, you should be able to pull it all the way out, or at least mostly. There are 4 bulbs to change in here, two on the top: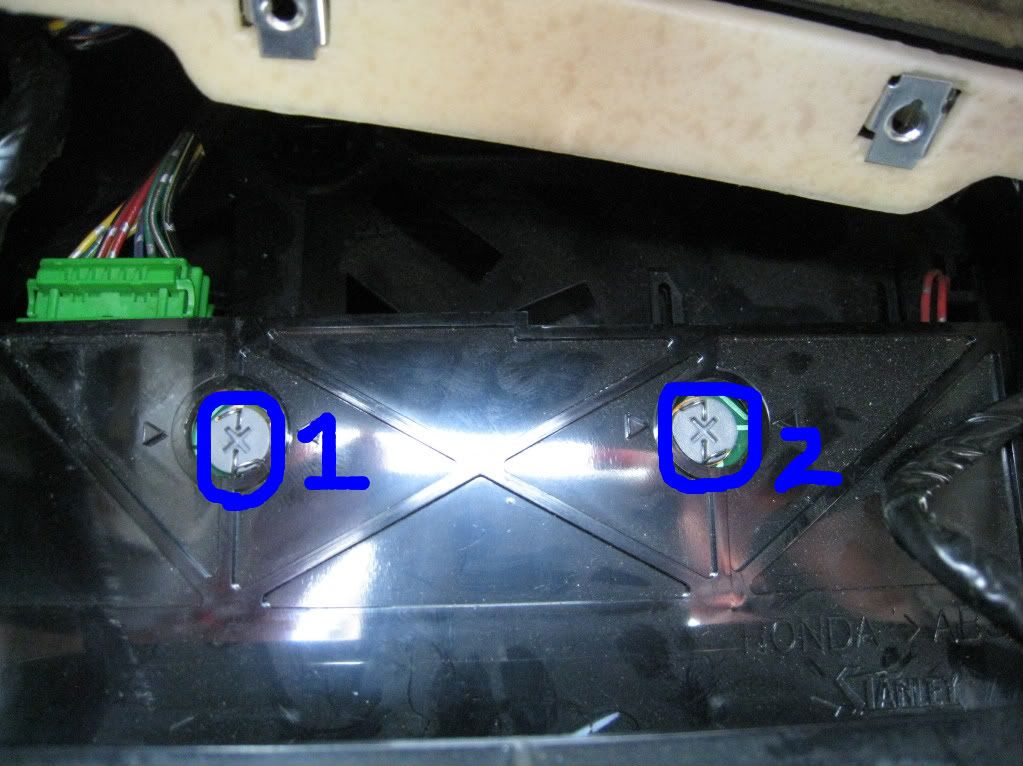 And two on the bottom, on the back side: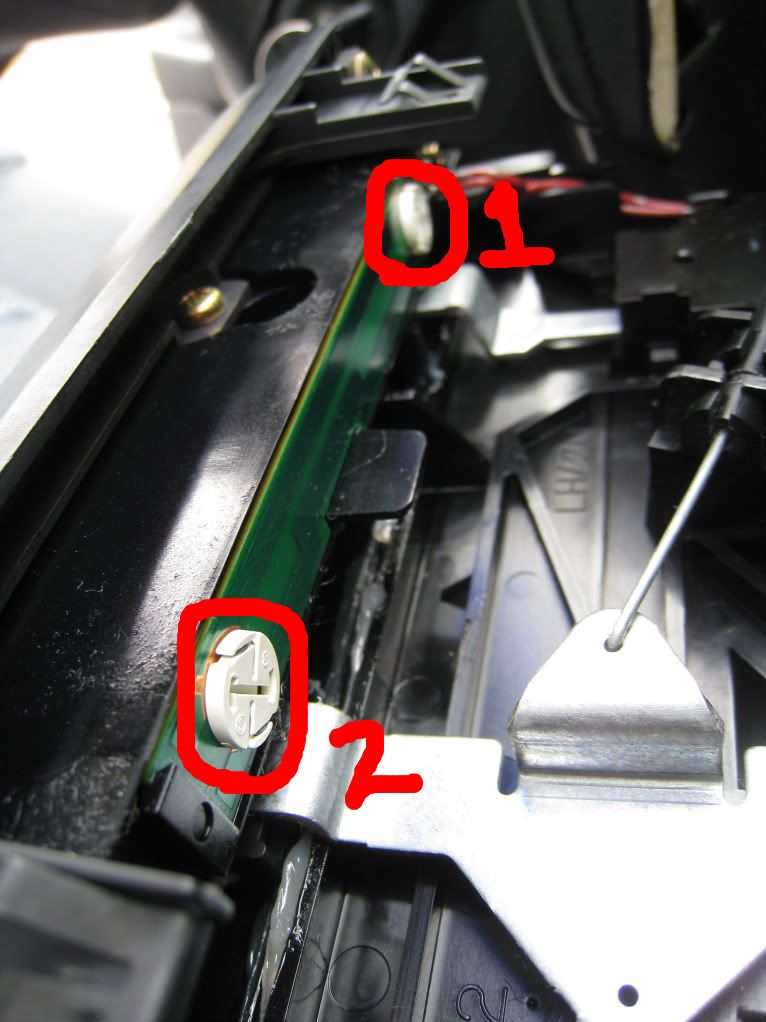 Then all that's left to do is hook it all back up and make sure they work! Be sure to route the slider rod back down the way it came.
Lastly, the climate control button lights. Remove the gauge cluster bezel as shown above, and carefully pop out the switch. From there, you should see two bulbs in there to replace. As with everything else, unscrew them, and put in your new 3mm lights.
Put this together, and you get something like this: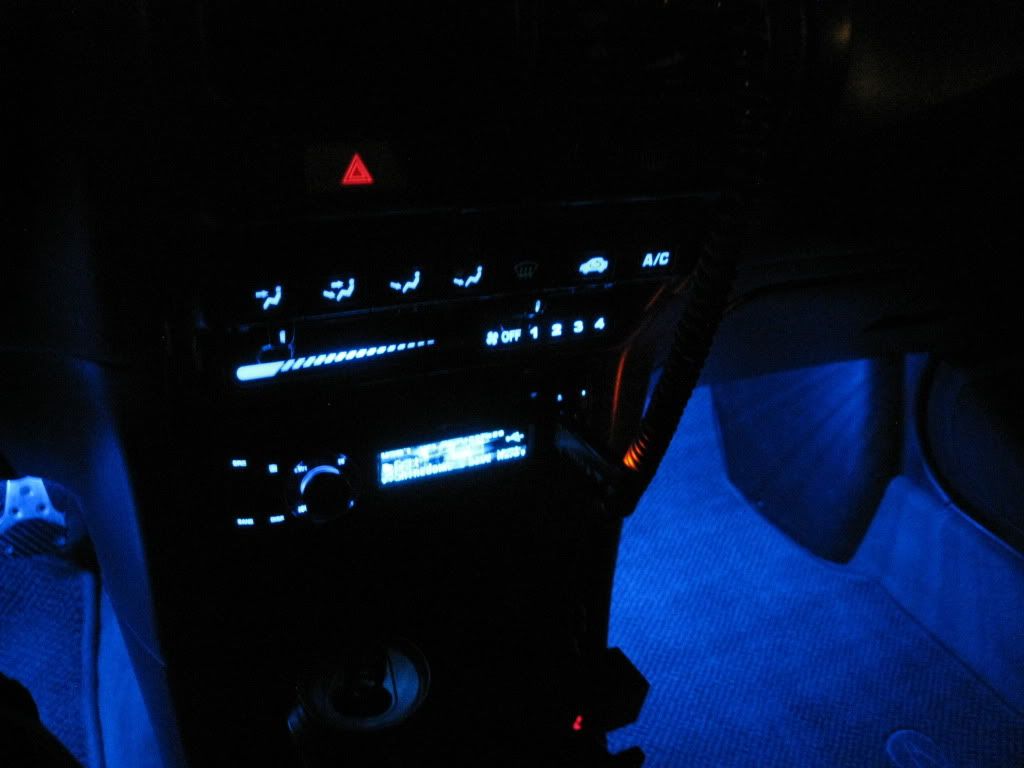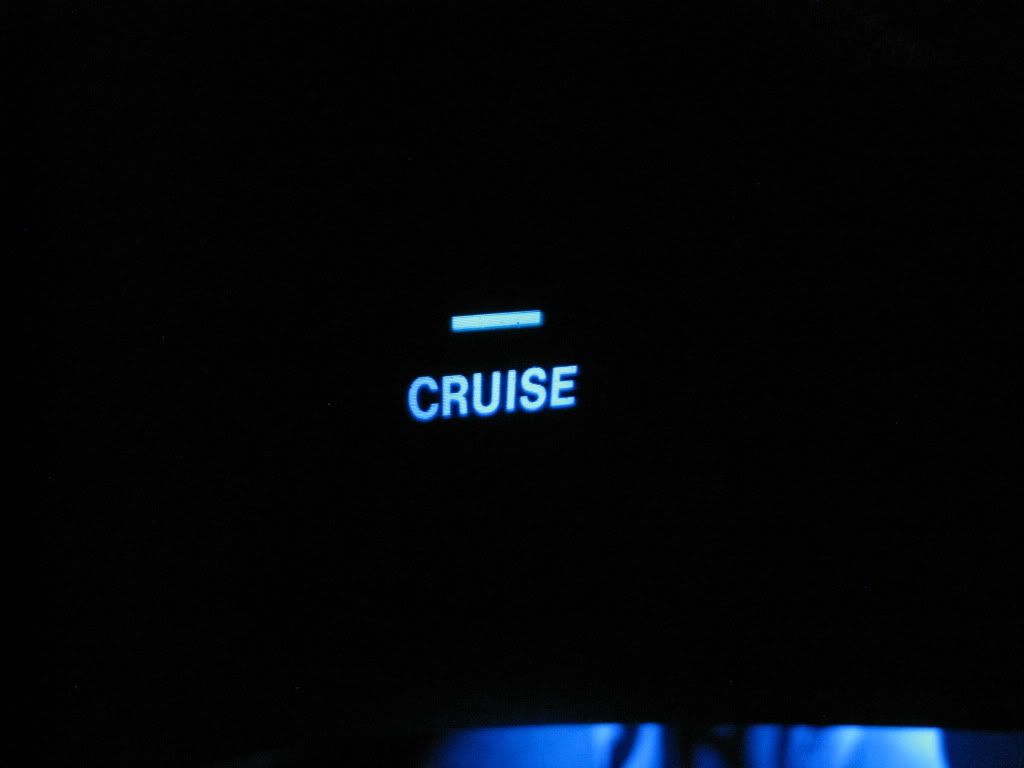 Now, concerning neons... I installed my neons while I had my entire interior torn apart installing my aftermarket stereo system a long time ago, and unfortunately didn't take any pictures. The hard part about explaining how to install these, is there is no one single way to do it. The biggest question I am getting is "what power source do I hook it up to?" Well, this is one of those things that will vary from person to person preference wise. So depending on what you will do, will cause variation of what parts you will need, but here's just a few general things you will most likely need...
- Your choice of neon bars (duh)
- Extra wire (18 gauge should work)
- A switch if you decide to use one
- Butt connectors
- Zip ties
- And some creativity
When I installed my audio, I ran the power to the lights to the 12V trigger on my amp. I ran that power wire up to a switch by the e-brake, and then ground it to the chassis. The way it is wired, you do have to turn on the acc, and only then flipping the switch will do anything. (Wiring so that the "acc" must be on before turning on the lights helps avoid the problem of leaving your lights on while the car is not, draining your battery.)
As I said, have the positive wire of your neons connected to the positive power source, (In my case the 12V trigger on my amp) and the negative of the neons to the ground. The switch then completes the circuit when switched on, hence turning on the lights.
Here's an easier to read wiring diagram for the neons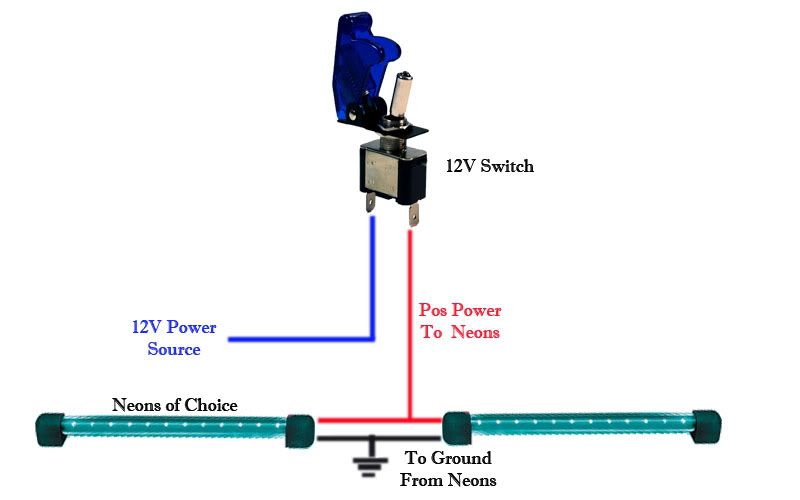 This is just how I did it, but as stated, there are many other ways of doing this. You could wire it to your 12V power outlet or, if you're creative, wire it so that they turn on when you turn on your headlights. There are more ways than that, but just a few ideas. Get creative with it!!!
Now all that's left to do is tie up your new lights so they aren't flopping around everywhere.
Put both of these together, and you get something like this....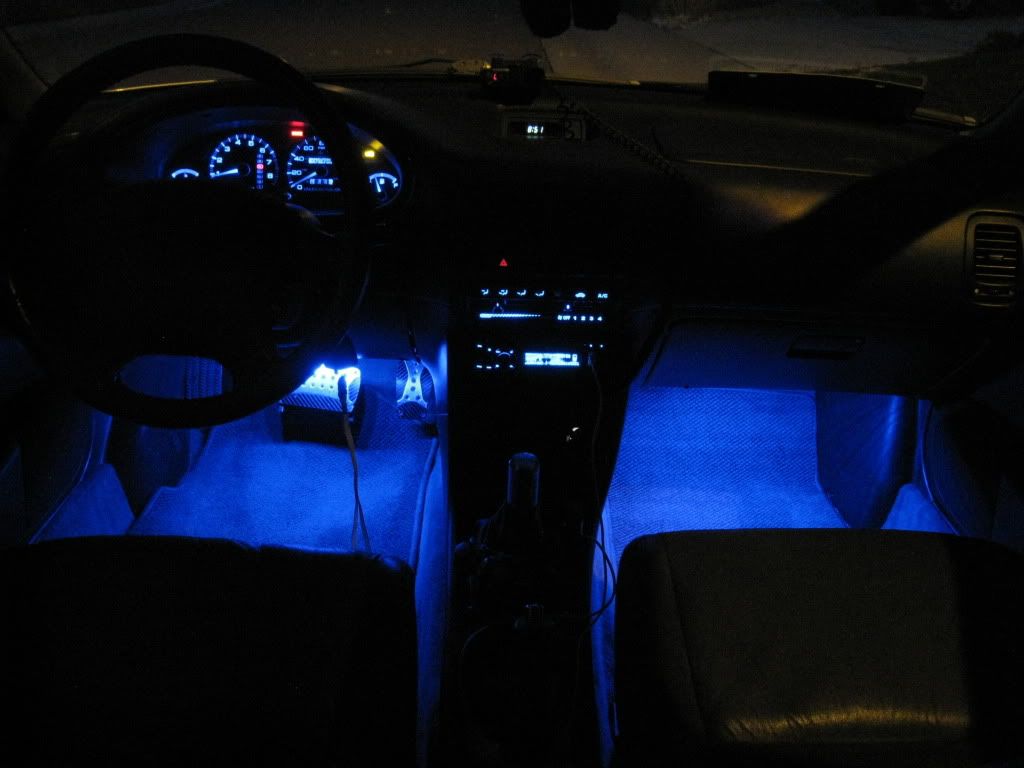 Hope this helps! Any questions please feel free to ask.
Last edited: